Sunrise EV2 vs. Solectria Sunrise -- a Comparison
The Solectria Sunrise cost $100,000 because it was designed to be mass produced in high volumes, but was actually hand made in low volumes. It was optimized for efficiency, with greater range than any EVs today. But acceleration and handling were compromised, and its donor car parts are now over 20 years old. There were also aspects that were unfinished, to be completed later if/when full production could be achieved.
The Sunrise EV2 has been updated and improved, and designed to be easy to build as a kit car. Now you have have a truly high performance EV without the compromises and limitations of a conversion! Here are the differences between the original and our version.
Body:
The original Sunrise body was a carbon fiber / E-glass composite that weighed just 250 lbs. It was produced in one piece by a very complex mold intended for mass production. Many aspects were optimized for light weight at the expense of practicality; for example plastic windows, ill-fitting doors, poor ventilation, non-replaceable bumpers, etc.
The EV2 body has been simplified to allow production in lower volumes with simpler molds. Among the many improvements:

Converted to a hatchback, for improved trunk space and utility
Glass in all windows, for durability
Improved ventilation, for all-weather use
Real doors, with better weatherstripping, roll-down windows etc.
Larger wheel openings for bigger tires
Increased headroom
Minimization of hard-to-mold pockets for door hinges, headlight and taillight buckets, etc.
Separate replaceable bumpers
Battery Box:
The original was 108"L x 14.5"W x 11"H. It ran from just behind the front wheels to just behind the rear wheels. This made access difficult, and limited battery size choices.
The EV2 box is larger; 120"L x 15"W x 12"H. This allows a much larger range of standard batteries. It extends from the front bumper to just ahead of the rear differential. The batteries are in a tray that slides out the front, for fast easy servicing and maintenance. Multiple trays can be used; one for range, one for speed, or even a hybrid tray that's half batteries and half ICE generator.
Brakes:
The original Sunrise had manual Geo Metro front disks, and Dodge Neon rear drum brakes. The mismatched front/rear setup provided mediocre braking. The AC drive system provided regenerative braking.
The EV2 braking system comes from the donor car. Depending on the year and options chosen, it can be power assisted front disks, rear disks or drums, and with or without ABS. The vacuum pump doubles as an air compressor for adjusting air bag ride height and emergency tire inflating. Regenerative braking is not planned for the prototype (Minnesota is pretty flat), but is provided for if desired.
Motor:
Solectria used an expensive custom air cooled AC induction motor and controller, rated at 50 KW. Though highly efficient, acceleration was weak and there were overheating problems.
The Sunrise EV2 has a universal motor mounting plate that accepts virtually any motor. The prototype uses a Netgain WarP 9" series DC motor. Though this reduces efficiency 10%, the price is drastically lower and it provides several times more peak horsepower. The motor is mounted behind the rear wheels and directly coupled to the differential with a standard spider coupler with virtually no machining.
Transaxle:
The original Sunrise used a Geo Metro transaxle to drive the front wheels. It was locked in 2nd gear, as the AC motor had a 13,000 RPM limit and was electrically reversed. Though light, it was not very strong. As the batteries were in the rear, you had the odd situation of a front wheel drive car that was tail-heavy -- not good for handling.
The EV2 has been changed to rear wheel drive, more befitting a sports car. A Ford 8.8" differential from the donor car is used, with new gears for a 5.14:1 ratio. This is a very strong part, often used in drag racing. No transmission is needed, and the motor is electrically reversed. The differential is flipped 180 degrees so it is upside down with the drive shaft pointing rearward. Dry sump lubrication is used with lighter weight oil to improve efficiency.
Suspension:
The original used 1994 Geo Metro front, and 1994 Dodge Neon rear suspension components. Though light, they were inadequate for the car's 2979 lbs GVWR; handling and braking were mediocre.
The EV2 uses 1989-1997 Ford Thunderbird, Mercury Cougar, or Lincoln Mark 8 front and rear suspension components. These cars are "super coupes" with the excellent handling of luxury sports cars. Their 4800+ lbs GVWR can safely carry considerably more weight. They have the power disk brakes and power steering expected in a modern car. Everything attaches to easily removed bolt-in front and rear subframes. Air bags and adjustable shock absorbers are used to accomodate the large range of vehicle and battery pack weights possible.
Wheels and Tires:
Original: 13" Geo Metro front and Dodge Neon rear. These are small tires considering the weight of the vehicle. The front/rear bolt circles were different, which made spare tires and matching rims difficult.
EV2: 15" from Thunderbird/Cougar donor. Our prototype uses Goodyear Integrity 185/65R15 low rolling resistance tires from the 2004-07 Prius.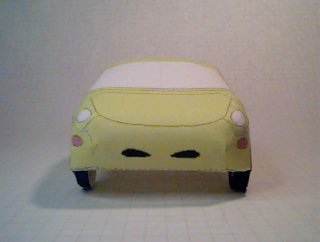 Sunrise EV2 Prototype Specifications
Dimensions
length 178" (452 cm)
width 74" (188 cm)
height 54" (137 cm)
wheelbase 104" (264 cm)
Weights
curb weight without batteries 1650 lb (750 kg)
battery pack weight 1650 lbs (750 kg)
payload 900 lb (409 kg)
GVWR 4200 lb (1909 kg)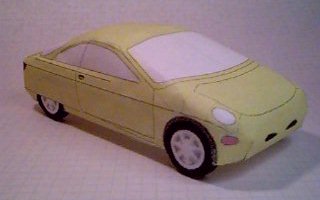 Drive System
Netgain WarP 9" series DC motor
Cafe Electric Zilla 2K-LV 156vdc 2000amp controller
Direct rear wheel drive via 5.14:1 differential (no clutch or transmission)
Versatile motor mounting plate and coupler allows almost any motor and controller to be used.
Batteries
22 6v GC2 size lead-acid batteries (US Battery US-145)
batteries housed in easy-to-remove slide-out tray, 120"L x 15"W x 12"H
any type battery can be used; lead-acid, nicad, nimh, lithium, etc. Even hybrid trays with both ICE generator and batteries are feasible. Lead-acids are just the most economical for testing.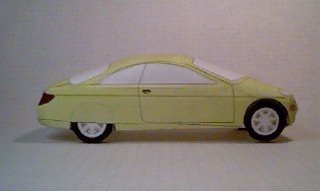 Suspension
front: independent, with upper/lower A-arms, air struts, and adjustable shock absorbers on steel subframe
variable-assist rack-and-pinion power steering
rear: fully independent, with steel subframe, upper/lower A arms, air springs, and adjustable shock absorbers
Ford 8.8" differential, with half shafts to each wheel
Brakes
prototype has front/rear disk brakes, with manual Wilwood master cylinder
can also be built with vacuum power assisted antilock disk brakes from donor vehicle
regenerative braking is also an option with motor controllers that support it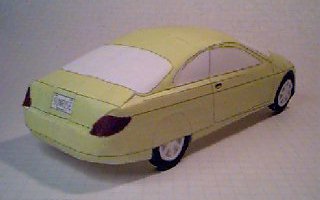 Tires
Goodyear Integrity 185/65R15 low rolling resistance (Toyota Prius)
wheels (from donor car): Standard Ford 5-bolt 15" x 6.5".
Enlarged wheel wells allow use of any tires or wheels that fit the donor cars.
Performance goals
acceleration: 0-30 mph in 4 seconds, 0-60 mph in 9 seconds
range (lead-acid): 100 miles at constant 60 mph, 85/55 miles city/highway
range (nimh): 200 miles at constant 60 mph, 170/110 miles city/highway
range (lithium): 300 miles at 60 mph, 250-165 miles city/highway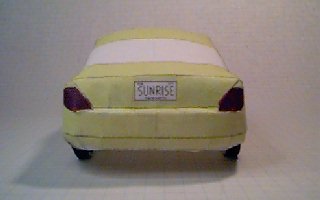 Plans
Plans for building the Sunrise EV2 are under development, as we're still adding and changing things. Copies are provided to Project members who are working on their own Sunrises.
The pictures on this page are a paper model of the Sunrise, made from our plans-in-progress to test the fit and dimensions. For contributions of $50 or more, I'll send you your very own hand-made model Sunrise, just like the pictures; built, signed, and dated by Yours Truly!
---
The Sunrise EV2 Project, © 2007-2012 by Lee A. Hart. Created 2/6/2008. Last updated 11/18/2014.
Go to TOP ........ Go to HOME ........ Questions? Comments? Want to help? CONTACT US!
Web hosting provided by Turtlehut Internet Marketing http://www.turtlehut.com/