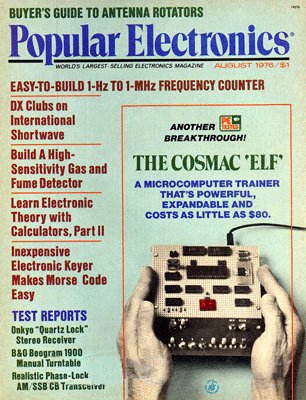 ---
The VCF ELF
---
Build A Classic COSMAC ELF Microcomputer
at the 2016 Vintage Computer Festival Midwest
---
The August 1976 issue of Popular Electronics magazine had a breakthrough project on the cover. "The COSMAC ELF: A microcomputer trainer that's powerful, expandable, and costs as little as $80." (Click on the magazine cover to read the original article.) To put this in perspective, the Apple I was selling for $666.66 at the time; and the Apple II didn't even exist yet!
The ELF truly was a simple inexpensive computer. Thousands of people built it (including us)! In the process, we learned about computer hardware and software right from the ground up. This experience is largely lost today, when everyone simply buys everything already built and programmed for them.
The Plan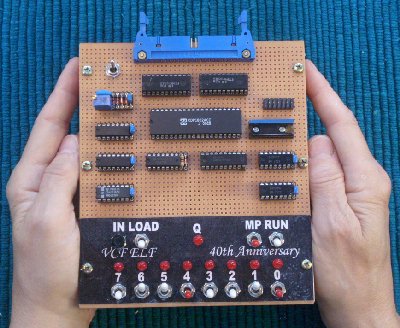 2016 was the 40th anniversary of the ELF. In honor of the occasion, we decided to recreate the original ELF at the Vintage Computer Festival Midwest in Chicago IL on September 10-11, 2016. To give people a "taste" of what it was like, visitors to our booth had all the parts and tools needed to build a real COSMAC ELF. This was a wire-wrap project -- no soldering at all! We showed folks how to wire-wrap, so by the end of the show, participants had almost finished a complete vintage computer from scratch.
This computer was then raffled off. Everyone who added at least one wire got to put his name on a raffle ticket. At the end of the show, we drew the winning ticket out of a hat. One lucky builder won a FREE genuine hand-crafted COSMAC ELF computer!
The photo is our 40th anniversary recreation of the original Popular Electronics Elf. Click here or on the photo for a movie of the VCF-ELF in operation.
Links
Parts
By pooling our resources, we had enough parts to make four kits; so that was the "production run". It's ONE for the money (auctioned off at the show with the proceeds donated to VCFMW-11); TWO for the show (the one built at the show and raffled off); THREE to get ready (Chuck built one to test and demonstrate that it all works); and FOUR, I don't know (we gave it to Dave Ruske, who sold it on eBay to provide funds to support the www.cosmacelf.com website). :-)
Here's the VCF-ELF parts list, in case you want to build one for yourself. We used premium vintage parts wherever possible to keep the "look and feel" of the original; but there are cheaper alternatives if you're on a budget.
VCF-ELF Parts List
QTY
ID#
Description
2
C1,C2
10uF 16v X7R ceramic capacitor (digikey.com 445-2887-ND)
4
C3-6
0.1uF 25v X7R ceramic capacitor (jameco.com 25523)
3
D1,D2,D5
1N4148 signal diode (jameco.com 36038)
2
D3,D4
1N4001 50v 1a diode (jameco.com 35975)
1
IC1
1802 microprocessor (alltronics.com CDP1802ACE)
2
IC2,IC3
5101 256x4 RAM (jameco.com 42198)
1
IC4
74C374 or 74HC374 octal latch (jameco.com 44409)
1
IC5
4071 quad 2-in OR gate (jameco.com 13274)
(2)
IC6,IC7
(optional) hex display, TI TIL311 (bgmicro.com LEDTIL311) or HP 5082-7340 (rcfreelance.com 5082-7340)
2
IC8,IC9
4016 quad SPST switch (jameco.com 12722)
1
IC10
4023 triple 3-in NAND gate (jameco.com 12845)
1
IC11
40106 hex schmitt-trigger inverter (jameco.com 893179)
1
IC12
4013 dual D flip-flop (jameco.com 893443)
9
LED0-8
LED red T1-3/4 (jameco.com 2125309)
1
P1
header 12-pin (2x6) wire-wrap (digikey.com H123890-ND; cut in thirds)
1
P2
header 40-pin (2x20) right-angle wire-wrap + 2 ejectors (digikey.com CHA40G-ND + CLKS01-ND or CLKS02-ND)
1
R1
100K x 9 10-pin SIP resistor bussed (digikey.com 4610X-1-104LF-ND)
1
R2
1K x 9 10-pin SIP resistor bussed (digikey.com 4610X-1-102LF-ND)
1
R3
5Meg trimpot (digikey.com 3296W-505LF-ND)
1
R4
1K 5% 1/4w carbon film resistor (jameco.com 690865)
12
S1-11,13
switch SPDT submini toggle PC pins (C&K T101LTCQE or Wonderco ebay #140741190973 2MS1T1B7M2QE)
(optional) toggle switch vinyl caps (white digikey.com CKN10598-ND, red digikey.com CKN10599-ND)
1
S12
switch SPDT submini pushbutton PC pins (onlinecomponents.com TP12LTCGE)
1
XTAL
1.8 MHz ceramic resonator with capacitors (Tayda Electronics ebay #321044248918)
1
40-pin wire-wrap IC socket (jameco.com 94503)
2
22-pin wire-wrap IC socket (semisurplus ebay# 321201622119)
2
20-pin wire-wrap IC socket (jameco.com 38632)
1
18-pin wire-wrap IC socket (jameco.com 94482)
6
16-pin wire-wrap IC socket (jameco.com 37411)
(2)
(optional, for TIL311) 14-pin wire-wrap IC socket (jameco.com 62051)
(1)
(optional, for 5082-7340) 24-pin wire-wrap IC socket (jameco.com 105372)
1
5.25" x 6" perfboard with holes on 0.1" centers (jameco.com 206594)
2
wood side supports 6" x 3/4" x 1/4" (home-made)
6
#4 wood screws to attach side supports
1
battery holder 3-AAA cells (jameco.com 216303)
1
2-pin connector for battery holder (jameco.com housing 234704, pins 234931)
40'
approx
wire-wrap wire, stripper, and wire-wrap tool (jameco.com, digikey.com, and many sources on eBay)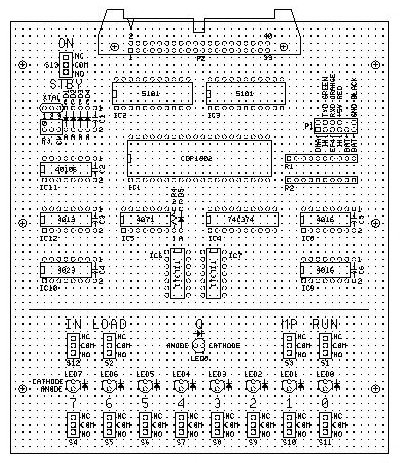 Changes from the original
The first illustration shows the parts placement on the front side of the board. The second is a paper template, to label the controls and provide pin numbers on the back to make wire-wrapping easier. The last picture is the finished prototype, all wire-wrapped and working. How's it look? :-)
It could have been built EXACTLY like the original. An exact copy would appeal to historians; but not to the average person today. Some parts are also rare and expensive, and no clear expansion path was provided. Therefore, a few changes were made to be cheaper, easier to build, and more useful in the modern world. Also, because Lee has engineer disease and can't resist "improving" things. :-)
Add individual data LEDs.

Located just above data switches.
More logical to use with individual input switches.
Avoids rare/expensive/high-power hex display.
- Hex displays take 10x more power than everything else put together!
Implementation: Replace buffers IC4-IC5 with 74C374 octal latch IC4.
- Latch needed for individual LEDs.
- High drive: Can drive individual LEDs, hex displays, or both.
- Can also be used as a general-purpose 8-bit output port.

Add bypass capacitors (an obvious oversight in the original article).

Replace electrolytics C1-C2 with ceramic capacitors C1-C6.
Extend 14-pin IC sockets to 16 pins, and put bypass capacitors in the extra pins.

Replace diode-resistor OR gates with a 4071 quad 2-in OR gate IC5.

Two sections replace D1-D4 and R8-R9.
Third section replaces IC5 pins 14-15 (buffer for RUN switch).
Fourth section replaces IC11 14-15 (buffer for Q LED).
IC count remains the same, and we've eliminated 6 discrete parts.



Replace individual pullup resistors with SIP network R1-R2.

Replaces R1-R10 with R1-R2.
Easy to mount in IC wire-wrap socket.
Includes series resistors for individual data LEDs.

Use 1.8 MHz ceramic resonator in place of crystal.

Has internal capacitors (eliminates old C3-C4).
Easy to mount (plugs into normal IC wirewrap socket).
Frequency correct for 1861 video, and serial baud rates up to 9600.
Replace R11 with 5 meg trimpot R3. Makes clock frequency adjustable (10KHz-2MHz).
- Adjust it near 1.8MHz and it "locks onto" the resonator frequency.

Wire unused section of flip-flop IC12 to latch address bit A15 and /A15.

Allows simple memory expansion. A15=0 selects 0-32k, /A15=0 selects 32-64k.
- Example 1: Two 2114s in place of two 5101s provides 512 bytes.
- Example 2: Expansion board can have one RAM at 0-32k, one EPROM at 32-64k.
Added /DIS input, with pullup resistor. Expansion boards can pull /DIS low to disable on-board memory and replace it with external memory.

Add serial I/O (using Q and EF3).

6-pin header (P1 pins 2-4-6-8-10-12) mates with Sparkfun FTDI USB-serial cable.
Need to load "bit banger" serial loader program to make it work (~40 bytes).
Resistor R4 in series with Q output prevents damage if VCF-ELF is powered and FTDI is not.
Diode D5 in series with EF3 input prevents damage if FTDI is powered and VCF-ELF is not.
Jumper P1 pins 1-3 to enable LOAD switch to control DMAIN (saves a diode).
Jumper P1 pins 5-7 to enable IN switches to control EF4 (saves a diode ).

Power Supply

Removed 5v regulator. Only the hex displays need it; everything else is CMOS and works on 3-6v. Provided two alternatives:
a. External regulated 5v supply:
- Connect USB 5v supply + to P1 pin 8, - to P1 pin 12.
- A Sparkfun FTDI serial adapter has the right pinouts to provide both power and serial I/O.
b. Battery power.
- Connect 3-cell AA battery holder + to P1 pin 9, - to P1 pin 11.
- Battery holder fits underneath switches.
Added ON/OFF/STANDBY Power switch.
- With battery connected, STANDBY powers RAM to maintain its contents.
- Diodes D1-D4 prevent back-feeding power between battery and external supply.



Add Expansion connector P2.

40-pin (2x20) header, with standard 0.025" square pins on 0.100" centers. Expensive, but:
- Wire-wrap pins (no soldering, easy to change).
- Mates with standard female IDC ribbon cable sockets.
- Mounting screws securely hold it to the board.
- Ejectors avoid pulling on cables to unplug.
Expansion board can lay horizontally, with edge supports just like the Elf board (so expansions extend the Elf rearward).
Has all 1802 pins for expansion, except:
- VCC pin 16 replaced by /DIS input with pullup resistor.
- CLOCK pin 1 replaced by /A15 output.
Pins are in the same physical locations as the 1802.
- Pin numbers changed, because ICs and headers number their pins differently.
Minimal parts needed for expansion.
- Memory expansion to 64K only 3 ICs (one 74HC373 high address latch, one 32k RAM, one 32k EPROM).
- Video expansion only one IC (1861).
Credits:
The VCF Elf project would never have been possible without generous donations of time and materials by Lee A. Hart, Josh Bensadon, Ed Keefe, Dave Ruske, Walter Miraglia, Chuck Yakym, Bill Rowe, and Norm Nelson; and to our many advisors and volunteer builders. A hearty THANK YOU to everyone that helped to bring this delightful project to completion.
Lee Hart
---
(sung to the tune of the original "Ghostbusters" theme song)
(You know; it goes Boom, Boom, cha-ka-cha Boom... Boom...)

If your circuit's strange, and it don't work good.
Who ya gonna call? Wire Rappers!
If it's got to change, if you only could.
Who ya gonna call? Wire Rappers!

(I ain't 'fraid a no bugs)

Don't pack no heat, no boards fulla lead.
What 'cha gonna use? Wire Rappers!
No burns or fumes, gonna wrap instead.
What 'cha gonna use? Wire Rappers!

(I ain't 'fraid a no bugs)

Just place that wire, on the right pin.
What is it called? Wire Rappers!
Now wrap it on, with a clockwise spin.
That's what we call, Wire Rappers!

(I ain't 'fraid a no bugs)

Ain't no big sweat, if you get it wrong.
What ya gonna use? Wire Rappers!
'Cause it un-wraps too; move it where it belongs.
What ya gonna use? Wire Rappers!

I ain't 'fraid a no bugs... bugs... b-b-b-b-bugs
Wire Rappers!

(Cartoon used with permission of the artist, Piero Tonin)
---
Vintage Computer Fair ELF © 2016-2020 by Lee A. Hart. Created 8/10/2016. Last update 7/13/2020.
Go to TOP ........ Go to HOME ........ Questions? Comments? Email me for details. Web hosting provided by Innovative Computers.